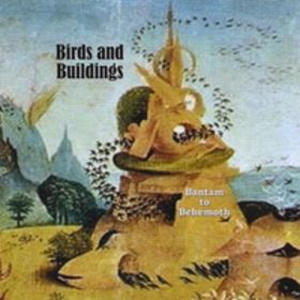 Mares de energía, intensa mezcla de estilos y mucha improvización nos trae Birds And Buildings. Estos tipos tienen influencias de todo tipo así como lo declaran en su myspace. Dan Britton el tecldista y guitarrista es fanático de Magma y Genesis, mientras Malcom el baterista es seguidor del jazz y el punk. Brian, el que interpreta los vientos, escucha jazz y por otro lado Brett, el bajista, se deleita con Premiata Forneria Marconi. Entonces ya se pueden imaginar la cantidad de matices que poseen sus composiciones.
"Birds Flying Into Buildings" la banda se oye explosiva y concisa, el tema comienza con sonidos crimsonianos de vibráfonos y teclados interpretados con un ritmo que mantiene la tensión; luego los jammins de los instrumentos son impecables, a veces con aires prog jazzeros y otras con aires más sinfónicos. En la mitad del tema resalta el saxo el que tiene que pasar por distintas armonías creadas por los demás instrumentos.

"Terra Fire" el sonido se va poniendo más Zeuhl lo que es resaltado con la voz algo similar al vocalista de Magma Cristian Vander.

"Tunguska" la inspiración es más sinfónica con el inicio de melotron acompañando a la flauta traversa; el tema posee varios cambios que lo llevan por el Zeuhl, el jazz y el hard prog. Al final el tema cierra de manera épica, con toda la melancolía de los melotrones.

"Caution Congregates and Forms a Storm" comienza con guitarras acústicas, pianos y flautas mientras el teclado pone melancolía al tema, luego se vuelve más eléctrico y algo sombrío. "Yucatan 65" Comienza con una guitarra acústica y una flauta interpretando melodías con aires flamencos, estos aires se intensifican con la aparición de los demás instrumentos, más adelante aparecen palmas confirmando el aire andaluz del tema.

"Chakra Khan" es un tema poderosísimo, que se alimenta del jazz y nos deleita con un ritmo ágil y virtuoso; luego se oyen las voces Zeuhl mientras el teclado crea unos loops que suenan bien electrónicos que junto con la guitarra llena de flanger crean un clima extraño e inusual.

"Battalion" es un Zeuhl medio jazz, potente y con melotron , toda una volada.

"Sunken City, Sunny Day" finaliza el disco de manera relajada, con un agradable sonido de piano y melotron.

Tracklist:
1. Birds Flying Into Buildings
2. Terra Fire
3. Tunguska
4. Caution Congregates and Forms a Storm
5. Chronicle of the Invisible River of Stone
6. Yucatan 65: The Agitation of the Mass
7. Chakra Khan
8. Battalion
9. Sunken City, Sunny Day